A night in Brazil
'warning.. contain's content not suitable for young children"
not really… well, maybe just a little
I've alluded to my first trip to Brazil with Roger in a previous blog, but this story is of my very first night in Brazil. Lets just say it was an eye opener…
You have to realize that I was a young naive prairie boy from Alberta Canada. I'd never been to a 3rd world country, really hadn't been anywhere but the United States, and a little bit of Europe with my father when I was 16 years old. I was in my early 20's and the closest I'd been to Exotic was buying a Mango at Safeway!
But, Off we went. We landed in Rio in the late afternoon of an early spring day. It was a hot, humid 30 degrees. I remember feeling that first rush of air hit me as the plane door opened. It's hard to describe, but it was a mix of the heat, humidity, the scent of decaying vegetation mixed with every kind of flower, throw in a bit of fish market and exhaust and you might get the idea. As we stepped off the plane, my eyes must have been the size of silver dollars. (Toonies for those who don't know what a silver dollar was). I stuck pretty close to Roger as we made our way through the terminal, and out to the waiting line of yellow Volkswagon Beetle taxi cabs.. Pretty much all the cabs in Rio at that time were VW beetles.. and it seemed that they tried to outdo each other with how dilapidated they could be. We hopped into one, Roger in the front and me shoehorned into the back, and off we went. Roger spoke fluent Portugese and even had an accent from the region known as Bahia, and in particular the city of Salvador, the cultural capital of Brazil. Being white and of English decent, everyone wondered how he could speak so well. He rattled off the destination and proceeded to speak with the driver for the 30 minute trip to our hotel. I was lost in another world, bouncing in the back, looking out at the sights and listening to the sounds around me, I was in Brazil!!!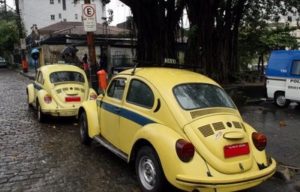 I was always amazed at how few traffic accidents there were in Brazil. Given the surge of humanity lurching and stopping down the streets. I was also amazed at the mix of old and new, of rich and poor, young and elderly,all mixed together in one big homogeneous mass. And, all seeming to be without animosity. You could see a millionaire sharing a park bench and a sunset with a homeless man, talking about the days events. Or a brand new modern high rise sharing a wall with a derelict 3 floor walk up from the 1930's. So different than home.
We rounded the corner and emerged onto Copacabana beach. I remember the wave patterns on the sea walk, the beach volleyball, the umbrellas and every kind of street vendor selling, fruit, fish, electronics, pretty much anything. I really think I was in a bit of culture shock. Eventually we got to the hotel and I did something, almost by accident, that I have done ever since whenever I stay at a new hotel. I took the hotel's business card off the counter and stuck it in my pocket. The room was nice, simple, utilitarian and clean and just a few blocks off the beach. After we got settled, we took a walk to the beach and ate what were probably the best breaded shrimp I've ever eaten. Straight from the boat to the vendor to us. Great concept.
The sun was setting and Roger said he wanted to show me something, so we caught the first taxi that went by. I was again lost in the sights and sounds and didn't really notice that the drive was taking us into older and more dilapidated neighborhoods as we went, until we stopped at a small plaza called the Praca Maua. We got out of the taxi and the smell of diesel and the docks hit me. We had come to the industrial heart of Rio. In the small plaza there were three bars, one was called the Scandinavian Bar, one the American Bar and the last one the Canadian Bar.
Now, someone with a little more world experience than I had had at that time might clue into where we were, but, I was hopelessly oblivious and thought 'hey, cool, there's a Canadian Bar down here in Rio"… we crossed the street and walked towards the door. Roger turned to me as we walked and said "now, if anyone comes up to you and asks for a cigarette, just say 'no I don't have one'". I thought, no problem, I didn't smoke and I didn't have any anyway. The bar was dark, and as my eyes adjusted, I noticed that there were a number of small tables surrounding a slightly sunken dance floor in the middle of the room. We took a seat and Roger ordered a couple of native drinks. As I looked around me, I wondered why we were the only two men in the bar and why there were maybe 30 young ladies. They were siting at tables, or at the stand up bar, or dancing together on the dance floor. It slowly started to dawn on me as every girl in the place came by the table one by one and asked for a cigarette, that this was maybe not your normal bar.
We hadn't been in there more than 15 minutes when I turned to ask Roger what we were doing there and noticed that he was no longer at the table. In fact, he was nowhere to be seen. I nursed my drink for the next 30 minutes or so as every girl came by a second and third time, hoping that Roger would return. He did not. He was gone for the night. And, here I was, an Alberta prairie boy, alone, in the seediest part of Rio, couldn't speak the language, no idea where I was. I could have killed him, if I had known where he was.
I figured I should get out of there, and went out onto the street. Then, I remembered that I had the hotel card in my pocket. Feeling quite proud of myself, I flagged down a passing taxi and showed him the card and asked him to take me there. He smiled and said he would. We drove for no more than 5 minutes before he pulled up to another club. I said "No… here" as I pointed at the card. He shrugged and took me to another club.. I must have looked a bit desperate by then, so he eventually took me to the hotel. Safe at last.
As I was recounting my escapade to the desk clerk, he laughed a bit and told me that the clubs would pay a 'finders fee' to the taxi driver if I would have gone in…
I went up to the room and went to bed hoping that Roger would make it back. Sometime around 8:00 the next morning he stumbled in to the room. I had a few choice words for him, but, he just smiled and asked me 'did you have a good time?"… it was to be just the first of many adventures with Roger.