"McBEAN, Roger
Roger Christopher McBean passed away on June 25, 2012 at the age of 59 in the country of Dominica where he had spent the last few years. He is survived by his children David McBean of Kelowna, BC and Graziela McBean of Toronto as well as his siblings Margaret, Martin and Betty. At the wishes of the family, no service will be held. Roger was interred in Dominica. In lieu of flowers, donations may be made to a worthy charitable cause of one's choice."
This is what the Obituary said about one of the more intelligent and certainly most interesting men that I've ever had the pleasure of knowing. He really was Edmonton's own "Indiana Stones".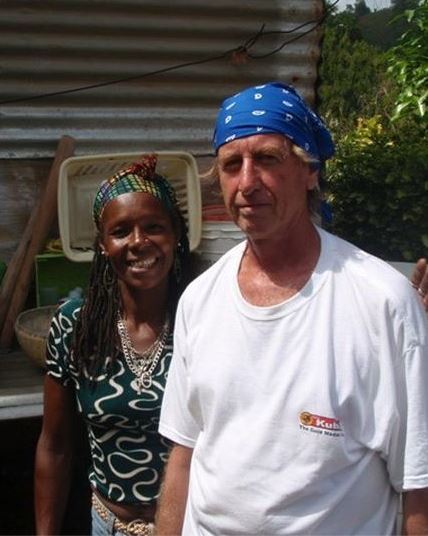 I met Roger in the fall of 1978. I was working as a Gemologist at an Edmonton store called Jason Goldsmiths. He was just starting a new business importing gemstones from Brazil. I remember well his worn black soft leather briefcase slung over his shoulder and the small selection of Tourmalines, Amethysts and Citrines he had in it. He kept his better stones in a Safety Deposit box he told me, and offered to take me to see them. It was at the Royal bank just down the street, so I agreed to go. When we were in the vault, he turned to me and asked if I wanted to see something special? Of course I agreed, thinking it would be some amazing Gem. Instead he took out a frayed picture of a young Brazilian girl, His Fiance in Brazil.  I should have realized then that although he did love Gems, perhaps they weren't his 'first' love.
My understanding of Roger's story began as a student at the University of Alberta in Latin American Studies where his passion for all things Latin grew. It was here that he met his first wife and they studied and dreamt about traveling through South and Central America. They were married, sold what they could and stored what they couldn't, and after graduation, off they went.
He told the story of how they landed in Colombia first. Roger was immediately smitten. He was living his dream. His wife, not so much. The heat, the Bugs, the Culture, were not as she had imagined it. (Hey, the bugs I can understand.. I never did like the bugs, there were huge bugs). After two weeks, she had had enough and wanted to head home. Roger couldn't understand it, they 'disagreed' about it. It's what they had dreamed of and planned for years. And on a sunny Sunday afternoon, Roger went for a walk, (the Australians call it a 'walkabout') He ended up at the bus station and called her, he was taking the last bus, and if she wanted to join him, he'd get her a ticket and wait for her, if not, he'd see her later. She didn't come, he caught the bus.
For the next two years, he went off grid, travelling his way across South America however he could. By Taxi, by bus, by mule, with his thumb, walking, eventually meeting his one great love, Virginia. She was the ex wife of a Brazilian trucker and she knew every nook and cranny across their great country and she loved showing every inch of it to her "gringo". She taught him the cultures, languages and nuances of perhaps the most diverse and complex country on earth. He really was in heaven.
But eventually, they had to stop, and he had to come home to deal with the situation that he had waiting for him here in Canada.
Virginia was very poor and her family lived in a Favela or slum in Fortaleza in Northern Brazil. When he had her settled away, he flew home to get divorced and arrange his affairs.
Now, Brazil had a unique way of dealing with slums back then. Every now and then they would "clean" them. This would amount to the police showing up with loud speakers, announcing that they would "clean the Favela at 2:00pm the next day". Then they would show up at the appointed time with bull dozers, push everything into a pile and burn it. Well, while Roger was in Canada, they did this to Virginia's home. when he returned to Brazil, he came back to an empty field, no sign of her and no way of contacting her.
Roger spent the next two years and all he had searching everywhere, following every lead with no luck at all. Running out of money he started thinking of ways to support himself while he searched. Some of the miners and stone dealers he had met on his travel suggest that he take some of their stones to Canada and try to sell them. He thought it was a great idea and he took those first stones and brought them to Edmonton and to me at Jason's. Small world.
During those two years, a girl he had met named Lindsay, (she was the daughter of an important man in Bahia a popular state in Brazil) had been helping him look for Virginia and of course the inevitable happened, and they fell in love. Having given up on ever finding Virginia again, they got engaged and it was her picture that he was showing me in the basement of the Royal Bank.
Our first trip together to Brazil was in the early 1980's. But. that trip is another story, and it's in another blog on here. We would travel there many many times over the next 15 years or so. Roger took me places, showed me things and taught me so much. I can never forget. Eventually the diseases he had contracted over the years of travelling in the interior of South America would take their toll on his body and the travelling became hard.
He ended up on a mountain in Dominica with another wonderful Girl. The last few years of his life were spent on a hammock on a hillside in the shade overlooking the beautiful Caribbean ocean. I guess in retrospect, it was not a bad way for "Indiana Stones" to go…
Rest well my friend